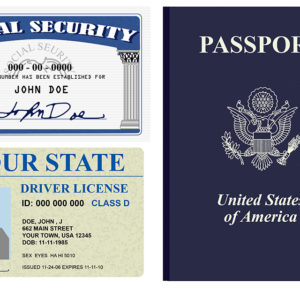 If you're looking after an older relative who no longer drives, he or she won't need a driver's license. But what about a valid ID. Does a person who no longer drives need an ID card?
The short answer is yes. Think about it. Identification is required just about everywhere you go these days. You need it to fly. Even if it's unlikely that your parent will travel again, you just never know. Your mom or dad may need to show an identification card at the bank, or in a store when making a purchase with a credit card. It may be required at a hospital or doctor's office or when picking up a prescription at your local pharmacy. Your loved one might need it when applying for Medicaid or when getting documents notarized especially wills, trusts, and durable powers of attorney.  Having a valid ID can also help protect your loved one from identity fraud.
I had to deal with this issue myself when my mom moved in with me two and a half years ago. During her first week in Florida, we went down to the DMV to get her a Florida state ID card. It's not a driver's license; it's a simple, yet official proof of identification. If you hate the thought of standing in line with your elderly loved one to get a new ID card, the Florida Department of Highway Safety and Motor Vehicles offers Florida Licensing on Wheels (FLOW), a fleet of 13 mobile units that make it much easier to complete all sorts of DMV transactions, including getting a Florida state ID card for an older adult. The FLOW busses often stop at senior centers, which makes it even more convenient.
Whether you go to your local DMV or to the FLOW bus to get your loved one's Florida State ID, make sure you come prepared. Your loved one will need to be ready to have his or her picture taken, be prepared to pay a small fee, and be able to supply the following documentation:
A U.S. driver's license or any current ID cards, including out-of-state cards
Proof of U.S. citizenship such as a U.S. birth certificate or U.S. passport
A primary identification document such as an original birth certificate or current U.S. passport
A secondary identification document such as you're a health insurance card or Social Security card
Proof of name change if your loved one's current name is different than the name on his or her primary proof of identity; proof might include a divorce decree or court order
Proof of Florida residency such as a recent utility bill, bank statement or mortgage receipt
Your Social Security Number
Peace of mind is another good reason to get a state-issued ID for our elderly relative. Carrying a license in your wallet is something many people do for decades. It's part of being an adult in our society. To suddenly no longer have that card in your wallet can be disorienting. Many older adults feel a little lost or anxious. The simple act of having the Florida State ID card may give your elderly parent a much-needed sense of security. I know it did mine!
Do your homework and plan ahead before you visit your DMV or your local FLOW bus to obtain a Florida State ID. Gather your documents and make sure you have original or certified copies. Don't find out the hard way that photocopies are not accepted.
Your elderly relatives may not ever need their identification cards but it's best to get them just in case. You'll be glad you did.