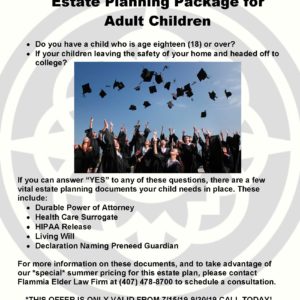 If you're a regular reader of my blog, you know that I'm always talking about how important it is to have the legal authority to make health care decisions for your spouse, parents or other elderly loved ones in the event that they are unable to make those decisions for themselves.
We don't often think about our adult children, especially if they've just turned 18 and are heading off to college. What would happen if they were in a car wreck or had a sudden illness that left them unable to communicate their preferences for healthcare?
If you're a parent, this is something to think about. The access you had to your child's health records and the ability to make decisions for that child goes away when he or she reaches the age of majority. Once a person turns 18, he or she is considered an adult. Even the most relentless helicopter parents won't be able to access confidential medical information on their children's behalf. This could lead to a lot of sleepless nights and worries about your child's health, especially if your child is in an accident far away.
Many people don't realize that the estate planning documents we normally associate with older adults—such as a Durable Power of Attorney, Healthcare Surrogate, HIPAA Release, Living Will, and Declaration Naming Preneed Guardian—are just as necessary for young adults. In fact, they're just as necessary for every adult, not matter what their age. Getting these documents prepared for your young adult children could be one of the best gifts you ever them—and yourself.
What does this mean? When your adult child executes the health care surrogate document, you would be able to make health care decisions in the event they would be unable to. If your child signs a HIPAA release, you will be able to access their confidential medical information whenever you need it—even if the child cannot give that consent. And if a child is unconscious, in a drug-induced coma, or otherwise unable to communicate, you will need access to that information.
And if your child is unable to communicate for a long period of time, chances are good that there will be financial impacts. If your child has a bank account and the account is titled only in your child's name, if something happens to that child, you, the parent, won't be able to access the bank account. You won't be able to collect the child's last paycheck, make withdrawals, or pay your child's bills. You'll have to get a guardianship over that child, either permanently or until that child regains capacity.
Getting these essential estate planning documents for a young person isn't difficult. Any elder law or estate planning attorney could do them for you. However, we're making it even easier with a summertime special offer. We call it the 2019 Estate Planning Package for Adult Children. If you're the parent of a college-aged child, you'll get this collection of vital documents for 50% off the regular price. It's a great deal—good from July 15 through September 30. Check out this flyer for more information about this special offer—and give us a call when you're ready to get started. We're here to help.