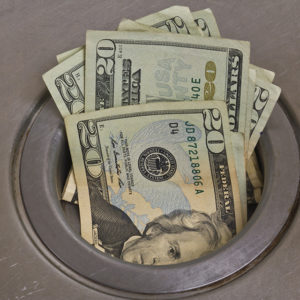 At the Flammia Elder Law Firm, we see people every day who come to our office with misconceptions about estate planning. These misconceptions come from many places—from well-meaning relatives, from rumors, even from professionals who don't specialize in elder law.
Some of the most persistent misconceptions have to do with asset protection. People think they understand how it works. But they don't. And when they make decisions based on those mistaken notions, the consequences can be dire for more than just the family nest egg. Relationships can suffer, too.
We've had a rash of these myth-bound clients walk through our doors lately, and it inspired me to create a series of blog articles on the topic. In this article, the first in the series, I address one of the most common myths we encounter: that you have to spend down everything before you can apply for Medicaid.
It happens innocently enough. Let's say your elderly father needs to move to a nursing home. As you and your family tour the facility, you'll eventually end up talking to the nursing home's social worker or a representative from their business office. It's in this meeting where the trouble might start. You might be told by facility personnel that you have to spend down your father's assets to $2,000 before the nursing home can apply for Medicaid on his behalf. If your father is single, the odds are even greater that you'll hear this.
Here's the reality: It's simply not true. It's unfortunate that families hear inaccurate information from people who seem like authorities on the subject. But the fact is, most social workers and nursing home business managers aren't Medicaid experts. And they can unintentionally give bad advice.
Many people think that if a parent or other elderly loved one ends up in a nursing home, Medicaid will pay the whole bill. It won't. Medicaid pays only room, board, and the Medicare Part B premium. And, according to Medicaid rules, your parent is allowed to keep only $130 per month in income.
If you follow the advice of a social worker or business manager who advises you to spend down your loved one's assets, you will be innocently creating a big problem, especially if you want to set aside some of your parent's money for things that will improve his or her quality of life.
For instance, consider the rooming situation in many nursing homes. Medicaid will pay the cost of a semi-private room, a shared room, but not a private one. What if your mother prefers a private room and you would like to use some of her assets to pay the difference? You won't be able to do that on $130 a month. $130 per month wouldn't even make a dent in that bill.
Or what if your mother is experiencing sundowning, that late-day state of confusion and anxiety common among people with Alzheimer's disease, and you want to pay a non-medical home care provider to sit with her during the evening to make sure she's okay? You won't be able to do that on $130 per month.
With the right Medicaid planning, you can protect assets to make sure that your parents have access to those important extras that make life in a nursing home much more livable. At the Flammia Elder Law Firm, we know how and when to deploy Medicaid planning techniques that convert assets that would otherwise be considered countable for Medicaid purposes, to assets that are exempt. This will free up some of your parent's money to be used for life enhancing extras that will enable them—and you—to breath easier.
Want to learn more? Just give us a call at 407.478.8700.