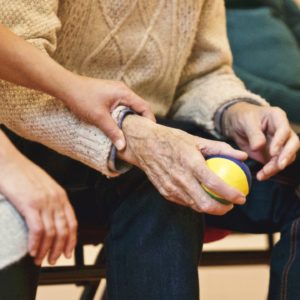 Antipsychotic drugs are known to have a number of severe side-effects, but they carry even greater risks for the elderly and those diagnosed with dementia or Alzheimer's. Unfortunately, antipsychotic drugs continue to be used as first-line treatments for the control of challenging behaviors in elderly patients.
A 2015 study in JAMA Psychiatry found that elderly patients prescribed antipsychotics had significantly higher mortality rates than previously thought, and that mortality was found to increase as doses increased. In addition, a research article, published in the Journal of Clinical Psychiatry, Mark Olfson and his colleagues concluded that about 80% of the prescriptions to those over 65 were for atypical antipsychotics concluding that more than three-quarters of elderly patients receiving antipsychotics do not have a psychiatric diagnosis and the likelihood of taking these drugs increases with age.
In an effort to reduce the use of antipsychotic drugs in nursing home residents, researchers tried training staff on innovative methods to meet the needs of residents with dementia. "This intervention focused on treating the residents as human beings with needs, not as patients with problems," said lead author Dr. Jennifer Tjia.
The new study included 93 nursing homes in Massachusetts. Staff, including nurses, nursing assistants, dietary staff and receptionists, were trained to recognize that difficult behavior by residents with dementia is a sign that they have unmet needs. The program, called OASIS, provides employees with the knowledge, skills and attitudes to meet the needs of residents with dementia using drug-free methods, according to the report.
After nine months, results from nursing homes using OASIS were compared with those at over 800 nursing homes in Massachusetts and New York that were not enrolled in the program. Nursing homes enrolled in the OASIS program had a 7% drop in antipsychotic prescriptions, compared with a 4% decline at the other nursing homes.
"We don't medicate babies when they cry or act out, because we assume that they have a need that we need to address. However, when people with dementia are unable to communicate, the current approach medicates them when they have undesirable behaviors," said Tjia. She is an associate professor of quantitative health sciences at the University of Massachusetts Medical School.
"The OASIS program asks nursing staff to create care plans that include what residents can do, shifting away from the model that focuses on what they can't do," Tjia added in a university news release. "This is a fundamental shift in how to think about caring for persons with dementia and we showed that it is effective."
OASIS trains and implements programs across the nation to utilize a person-centered approach to dementia care for residents in nursing homes. OASIS teaches staffers that aggressive behavior by a resident who is no longer able to speak may be that person's way of communicating pain, and to search for the source of the pain. The program also teaches staffers to comb residents' pasts to learn their preferences, hobbies, and accomplishments, tapping bedrock emotions that endure long after memory fades. That helps workers tailor activities and surroundings for each resident, to make the place familiar and comforting.
Please call the Law Office of Kathleen Flammia at 407-478-8700 or contact us today  for more information.