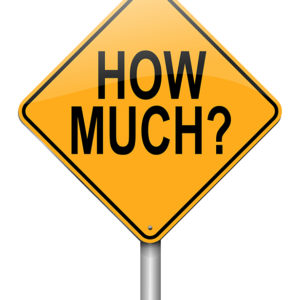 Just about everyone I see asks this question: What's it going to cost?
Some ask it when they first contact the firm. Some want to know after they've made their appointment. Others tiptoe around the question, asking it in all sorts of indirect ways.
I get it. Lawyers have a reputation. Legal work can seem expensive, especially if you aren't aware of how expensive it will be if you don't have that work done.
I like to be up front about what we charge. That's why we offer our estate planning services as both stand-alone tasks and as bundles of services—packages that leverage the economies of scale. These packages are a great value. In this article, I want to talk about a few of the service bundles we offer.
Disability Package
This service bundle allows you to identify who will be making healthcare decisions on your behalf when you're no longer able to. It also designates who will be providing other assistance while you are still living. Ultimately, the Disability Package gives the people you choose everything required to handle your affairs when the time comes—without the risk of assuming personal liability (a hazard many people overlook) and without the need to go to court to have you adjudicated as incompetent. The Disability Package includes a Durable Power of Attorney, Healthcare Surrogate, HIPAA Authorization, Designation of Pre-Need Guardian, and a Disposition of Remains Form. For a single person, the Disability Package costs $1,100. Married couples will pay $1,500.
Will Package
The Will Package includes everything in the Disability Package plus a Last Will and Testament. The result is a plan that outlines how people will assist you while you are alive, determines how your assets will be titled, and designates beneficiaries so everything goes to the right people. For single person, the Will Package costs $1,800. Married couples will pay $2,400.
Trust Packages
For some people, a Trust-based estate plan is more appropriate than one built on Wills. The Simple Trust Package gives you everything included in the Disability Package plus the documents needed for a Simple Trust. A single person will pay $2,400; a married couple will pay $3,000. The Simple Trust Package costs more to create, but it pays off in cost savings later. You'll already have a person identified to manage your affairs when you're no longer able to, which will mean sidestepping the guardianship process. In addition, your heirs will avoid the lengthy, costly, and public process of probating your estate after your death.
If your family dynamics are more complicated, we have a Trust Package for that. The questions we ask during our initial consultation help us assess your situation. We ask lot of questions, questions like Are you children married to in-laws or out-laws? Are you kids financially responsible? Do they have substance abuse problems? Are they spendthrifts? Do they have a legal excuse to keep an inheritance away from a spouse? If your answers tell us that there would be benefit in putting some distance between your heirs (or their spouses) and their inheritance, the Discretionary Trust Package is the best option. A single person will pay $4,000 for this package; a married couple will pay $5,000.
So, there you have it. This is how we bundle and price our estate planning services. We want you to know exactly what you're getting and how much it's going to cost. As you're evaluating your options, know that the Flammia Elder Law Firm would consider it an honor to help you design your future, your way.