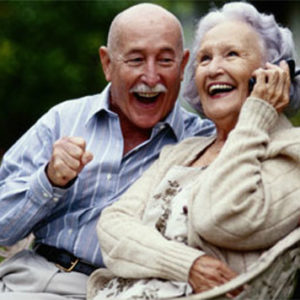 Across the country, an estimated 34 million people are providing care to senior family members. Of those 34 million caregivers, 15 percent live at least one hour away from the family member they care for.
But long-distance caregiving, while common, is not always a simple task. If you live an hour or more away from a parent or other older family member, you may feel frustrated and even guilty with your limited ability to provide them with assistance and care.
However, with the right approach, you may be able to provide your loved one with valuable medical, health, organizational, and emotional support. Below, we've shared some tips on providing effective care from afar.
Stay organized. A major part of providing long-distance care often involves staying on top of your loved one's medical, financial, and legal affairs. Organize medical records, insurance policies, account numbers, and other important information so that these documents can be accessed easily, in the event of an emergency. You should also create a contact list of friends, neighbors, doctors, and other trustworthy individuals who can check on your elderly parent or family member and assist in a crisis.
Keep in touch. You should make an effort to stay in touch with both your elderly family member and his or her healthcare providers—including any local caregivers and doctors. Make an effort to meet important providers in person so you can put a name to a face when you discuss changes in your parent's health. Check in with your parent regularly via phone calls, emails, or Skype to let him or her know you care about their health and happiness.
Visit. You should be prepared to visit your elderly relative on short notice in the event of emergencies, but you should also schedule regular visits to catch up and spend time together. Take advantage of visits by using them as an opportunity to help them purchase important items, assist around the home, and deal with any maintenance or safety hazards in their living environment.
Get help. Research community organizations in your parent's area that can work with you long-distance and offer services that fit your loved one's needs. You may also decide you need to hire a social worker or geriatric care manager to help your elderly family member with personal care, cooking, and medical needs.
Have the estate planning discussion. While it's never an easy conversation to have, it's important to discuss legal and financial matters with your loved one. Talk to your elderly family member about their estate plan and review important documents such as the Last Will and Testament and the Durable Power of Attorney. Addressing such issues will ensure your parent's wishes are honored in the event of their incapacitation or death.
Hire an attorney. If your parent does not have a solid estate plan in place, contact an experienced Florida estate planning lawyer. Your attorney can help you work with your loved one to create a Last Will and Testament, Trust, and other important documents with compassion and expertise. With a trustworthy attorney managing your parent's legal and estate affairs, you can rest easier and devote your attention to your loved one's health, happiness, and long-term well-being.