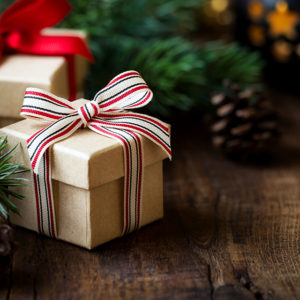 The holiday season is here. When you want to express your giving spirit with gifts to elderly loved ones, it's often hard to know what to get, especially if it seems like they already have everything. It's a common conundrum. That's why I've compiled this list of things that make great gifts for older relatives on your holiday gift-giving list.
Timekeeping device, such as a digital or talking clock, a wristwatch or a wall clock
Small plant or silk floral arrangement
Lap desk for reading and writing
Warm, colorful shawl for lap or shoulders
Socks (avoid anything tight or stiff)
Small lamp for night table that can be turned on or off with a single touch
Small basket to keep miscellaneous items
Small basket filled with everyday necessities like paper, pen, tissues, etc.
Large print book of crossword puzzles or word find puzzles (Dollar Tree has them!)
Magazine subscriptions
Large print books in topics that interest your loved one (devotional books, collections of short stories, biographies, and fiction are always good choices)
Audio books
Lip balm
Pocket tissues
Magnifying glass
Night light or a small set of stick-on night lights
Easy grip flashlight
Book of postage stamps
Jar of really good jam or preserves
Special treats that are appropriate for your loved one's diet (gift goodies in zip-lock bags or containers for clean and easy storage)
Homemade meals or soups in individual small-portion freezer containers
A bag of high-quality coffee or tea
Small stuffed animals (life-sized battery-powered cats and dogs are popular now)
Fleece throw or afghan
Something to hang on the wall or door (like a decorative, easy-to-read large-print wall calendar)
Cordless electric toothbrush
Device that plays music that will be easy for your loved one to use, along with favorite music (this could be a vintage CD player along with CDs of your loved one's favorite musical artists)
Washable clothing
Cardigan sweater
Gift certificate for a salon visit, manicure, pedicure or massage
Letter-writing materials, including stamps, stationery, or a greeting card assortment
Electric shaver for gentlemen
Knickknacks that have special meaning or reflect a hobby or interest
Photo album you have filled with special picture
A framed photo or photo collage
A mobile or soft wind chimes to hang
Products for bath and body, such as perfume, pump-dispensed hand or body lotion, and pump-dispensed shower gel
Costume jewelry such as earrings or bracelets with stretch elastic or a magnetic clasp
Nightgown or comfy loose-fitting robe
Sweat suits (avoid hooded sweatshirts that may be hard to put on or take off)
Sometimes, the best gift is doing something with or for your loved one. For many older adults, time with loved ones is the best gift of all. Try these ideas:
Work together on a scrapbook
Plan a game night of cards, checkers, chess
Plan a movie night where you watch a flick on your computer
Run an errand for your loved one
Help your loved one write letters, Christmas cards or thank-you notes
Assemble a collection of holiday songs on your digital music player; bring it to your visit so you and your loved one can listen to or sing holiday songs together
Share laughter or companionship during a special visit; have a box lunch or dinner on the porch
Work on a craft project together, such as knitting, crocheting, or sewing
As you consider what to give, please keep in mind that not every suggestion will be appropriate for every person. You know your loved one best. The important thing is to consider their needs, give from the heart, and let them know that they are loved.