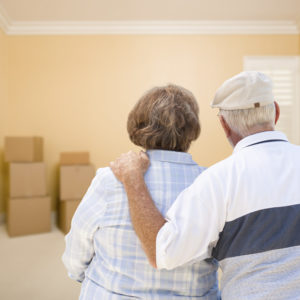 If you're looking after an elderly loved one, chances are good that you'll be faced with the prospect of moving the elder from one living arrangement to another. In the elder care world, this is called a residential transition. It's not something most people look forward to.
For families managing elder care on their own, residential transitions can definitely trigger fear. But for families working with elder law firms that also offer care coordination, the experience is exponentially better.
It usually starts when a spouse or family caregiver comes into our office and says, "I've been caring for my loved one at home for all this time and I can't do it anymore because it's just too much and I'm worried about the person's safety."
This admission of defeat, this tapping out, is key. A family needs to surrender, to truly believe that they need help. Not all family caregivers are able to do this.
This "do-it-yourself no matter what" mentality can be an obstacle. It'll cost too much, some people say. My parents didn't need help taking care of their parents, others might think. It's my duty—part of Honor Thy Parents in the Ten Commandments, still others will tell themselves.
As you're justifying your decision to go it alone, it's important to keep in mind that the elder care world of today is not the same as it was a decade ago, much less a generation ago. The demographics are dramatically different—more women are working, and people are living longer—which means that the people who would have been family caregivers in the past, have more to do and less time to do it.
Don't forget that an older adult's personal care needs have legal and financial implications, especially if public benefits are involved. Few family caregivers have the know-how to navigate the Medicaid or VA benefits qualification labyrinth without spending hundreds of hours—trust me, I'm not exaggerating here—researching options. It's like earning the equivalent of a Ph.D.–without the tenure track.
When a family reaches out to us, they're usually on the verge of tapping out. They're ready for help. Chris, our Elder Care Coordinator, will go to where the elder is currently living and perform a care assessment. Is there something that we can change in the current setup to keep that person at home longer? If the assessment reveals that there's something that could be done to help the elder stay at home or with family caregivers, Chris will connect them to providers of the services they need, such as home care companies, home renovation contractors, and other services that will help the elder can age in place.
If the elder needs to be moved, Chris will let the family know which living situations might be most appropriate. There are usually many options. The option a family selects often depends on how the family will be paying for care. That's where I step in. One of my jobs is to help the family access public benefits like Medicaid and VA Pension while protecting the older person's assets as much as possible.
While we're working out how to pay for whatever care the elder needs, we're also addressing other issues, such as whether the elder is competent to make decisions. We're also making sure that the elder's estate plan is complete and that powers of attorney are in place so the family can act on the elder's behalf and access public benefits, if needed.
If the elder moves into a long-term care facility, Chris may accompany the family to care meetings. In addition to helping family caregivers become confident advocates for their loved one, she monitors the resident's well-being to see if their needs are being met and if there's anything that needs to be changed. She shows family members how advocate for good care and how to ensure the follow-through that is such an important piece of the care puzzle.
These tasks may seem simple, but the impact is major.
The value of having someone help you navigate an older relative's transition from the home to a facility, can't be overstated. When you have someone walking the path with you and coaching you along the way, it makes every part of the residential transition easier, especially the emotional part.
Residential transitions don't have to be gut-wrenching upheavals for the elder and the family. They can be much easier. If you want to experience this for yourself, just give our office a call.