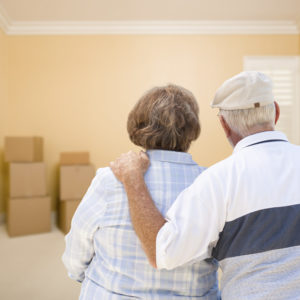 In Part 2 of our two-part series on the topic, we'll hear from Chris Rothenberger, Flammia Elder Law Firm's Elder Care Coordinator.
When it comes to managing residential transitions for an older adult, the extent of my role varies depending on when the family reaches out to the Flammia Elder Law Firm.
If a family starts working with me early enough, I can help them find a living situation that's going to be a good match for the elder in every way—physically, practically, financially, and medically—based on the level of care needed and the findings of my assessment.
An early start gives the family the gift of time to make well-thought-out decisions. My goal is to give family caregivers the information they need to make those decisions. That involves educating them about options, showing them communities, and sometimes even touring communities with them. In some cases, I will work with a senior placement specialist who knows the ins and outs of the assisted living communities in Central Florida. These professionals perform a valuable service by helping seniors find highly rated and well-recommended facilities with a track record of delivering on their promises. The best part is that these services are free to the senior and family caregivers.
If I start working with a family while the elder is still living at home, I'll guide them through the tasks required to get the elder ready to move. I'll also refer them to professionals who can manage the details that family members don't have the time, skill or desire to handle, such as the downsizing process, packing up the home, and moving household goods and personal items to the new residential setting.
A residential transition requires attending to hundreds of tiny details. In many cases, the family member managing the process is stretched very thin and could benefit from help orchestrating everything. That's where I come in. I help the person plan ahead, involving the older adult if possible so he or she feels like part of the process. This can include decisions about furniture, color schemes, whether a favorite chair makes the transition, and so on. I'll often help the older adult choose which items from the family home will be taken to the new facility. Once they're moved into the new space, I will help customize the new home with things that have meaning, such as collections, an afghan or favorite books.
As the older person is settling in, knowing what to expect is important. What should everyone expect from the facility's staff? It's a common question. I've found that the five-star hotel concierge experience that residents and their families often expect from long-term care facilities is not realistic or achievable. That's an entire topic of its own that I'll write about another time!
If the elder moves into a skilled nursing facility, I will attend care planning meetings along with family caregivers. That's how we stay on top of how the resident is doing and whether his or her care needs are being met. And if the family needs help advocating for care, I'm there to show them how.
Time is a precious commodity when you're moving an elder to a new living situation. If an elder is in crisis and there's no time to plan, everything is more difficult, and it always costs more.
Though I certainly bring a lot of expertise and know-how to each situation, that's really a small part of what I do. Ultimately, I'm there to walk alongside the client and family caregivers during one of the most difficult journeys any family will take. It's as much about helping everyone transition emotionally as it is about the physical change in address.