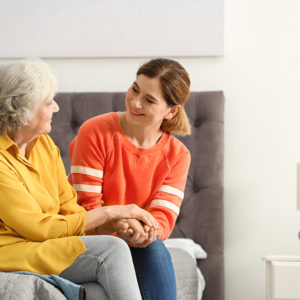 Have you ever felt uncomfortable visiting an elderly loved one in a nursing home, especially if the person has memory loss or has difficulty communicating? What do you do? What do you say?
The reality is that residents in nursing facilities are there because they need a high level of personal care. Medications that make them sleepy or less talkative can have an impact on interactions. Or, they may have memory loss, which makes conversation difficult. The experience of visit can be discouraging and can make you less likely to want to stop by again.
Should you keep visiting your loved one?
I say YES!
Visits are important because they keep your elderly loved one connected to life outside of the facility. When you visit, your very presence brings the outside world in to them. Visits help nurture family ties and provide an opportunity for growth in family relationships. Older adults benefit greatly from these interactions.
But what about you? What about the long, awkward silences? Chances are good that your elderly loved one won't be able to change, so it's up to you to meet them where they are. Start by adjusting your expectations of loved ones as they grow older. Remain open to seeing them in a new way.
Keep in mind that successful visits to elderly loved ones don't occur naturally. They rarely "just happen." It takes intentional preparation and practice.
What can you do to set the stage for satisfying visits? Try these tips:
Talk in a quiet place. Position yourself so you're close to the elder's eye level. Speak clearly and slowly.
Talk about current events, family news or community events. Come prepared.
Reminisce or bring flowers from your garden, photos, objects or the church bulletin to share.
Share a photo album or scrapbook.
Start a photo album or scrapbook that you can work on together.
Bring a CD of the religious service or music from church and listen together.
Bring a favorite CD to play. Share a poem. Pray or meditate together.
Sing together.
Share a meal or snack of favorite foods, being mindful of your loved one's dietary needs.
Do a hand massage, do a manicure or fix their hair. Touch is therapeutic and uplifting. So are hugs!
Bring a book and read to your relative during your visit.
Bring games or crafts that your relative can enjoy like cards, checkers, chess or word puzzles.
Enjoy television together. Simple companionship is important.
Bring along some magazines to leave behind.
Go for a stroll together or visit the patio. There is nothing like fresh air!
Assist with writing a letter or cards, or thank you notes.
Include children in your visit (and bring things for children to do). Kids can make a picture or read to a resident. The family pet is a good visitor, too, if the facility allows it.
Exercise with your loved one. Find a DVD with exercise routines for older adults confined to wheelchairs. Simple arm lifts, walking, or hand or leg exercises work well.
Celebrate holidays, birthdays or special events. The celebrations don't have to be fancy. Bring in seasonal items.
Make a memory book from simple questions that encourages your loved one to reminisce and tell stories about their past.
Learn from your loved one. Remember special joys and events. Ask questions.
This list is nowhere near complete. In the second installment in this two-part series, I'll offer more ideas for things to do—as well as a list of things to avoid.